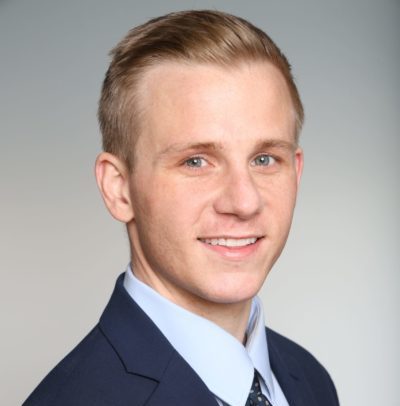 Michael Moriarty
Financial Analyst

| Email
Michael Moriarty joined Binswanger in 2022 as a Financial Analyst in the Philadelphia office and specializes in performing strategic analysis to evaluate owned and leased real estate. Michael works closely with the finance, operations, corporate advisory, project management, and brokerage teams by utilizing his versatile skill set and ability to wear many hats. His responsibilities include performing financial analysis, reporting, conducting market research, working with brokers to create offering memorandums, and providing operational support to the firm's in-house counsel.
From 2016-2022, Michael worked as an Associate Asset Manager at Twenty Lake Holdings, a private equity firm that serves as the operational management, valuation, and investment arm of a hedge fund based in New York City where he focused on monetizing, re-positioning, and evaluating owned and leased real estate. He negotiated and managed the sale of over 4.0M SF ($225M+ in total sale value) and lease-up of over 950K SF (totaling $120M+ in rent over term). In addition to managing an assortment of commercial value-add transitional assets, surplus corporate real estate, and high-yield cash-flowing properties from acquisition through disposition, Michael advised several national corporate clients including MediaNews Group (MNG), The Tribune, and Payless Shoes. He also played a major role in Twenty Lake's national acquisitions platform, was responsible for the company's quarterly and yearly valuations, contributed to the company's lease transformation platform (creating over $400 million in savings), and managed tenant improvement and capital expense projects throughout the country.
In late 2021, Michael founded Premier Real Estate Consulting, leveraging his unique experiences and connections at Twenty Lake to provide strategic guidance to a diverse array of clientele by utilizing his wide range of expertise to turn critical and complex real estate challenges into opportunities for long term growth amid a competitive and constantly evolving marketplace. He tailored his integrated advisory capabilities to each client's particular needs with the goal of creating, maximizing, and preserving value while mitigating risk and reducing costs.
Prior to his real estate career, Michael attended Chestnut Hill Academy in Philadelphia and graduated from the University of Pennsylvania in 2016 with a bachelor's degree in Philosophy, Political Science, & Economics (PPE) with a concentration in Choice & Behavior.