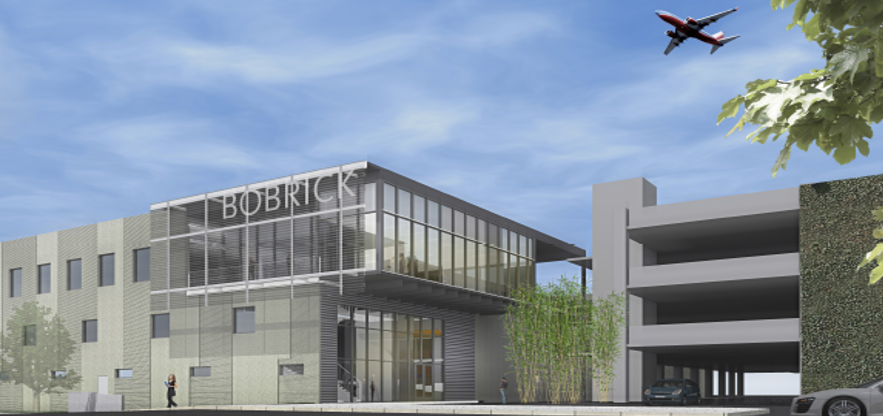 Bobrick's Build to Suit Headquarters
Client: Bobrick
Sector: Industrial
Service Type: Project Management Services
Location: North Hollywood, CA
Challenge
Bobrick, a leading supplier of washroom equipment, hired Binswanger's Project Management team to oversee the construction of their new corporate headquarters on land that they controlled for more than thirty years. Bobrick always intended that the parcel of land near their existing offices be used for a state-of-the art-facility serving a multitude of functions from research and development to manufacturing, distribution, and office space. However, Binswanger's team noted several aspects of the project that would require a much higher level of expertise and navigation through various approvals and procedures. First, the site was located next to the Hollywood Burbank Airport and all approvals for the construction of the building would need to be reviewed by the FAA, the city, and the state. In terms of the delivery traffic flow, the lot was smaller than what would be deemed acceptable for a warehouse and distribution facility of its size and was encumbered on all sides by established businesses unwilling to sell. In addition, the Los Angeles Fire Department demanded that access to the building be clear of all aerial high-power lines. In addition to these hurdles, the client wanted the new building to achieve an impressive LEED Gold certification.
Solution
Binswanger was well-suited for the project's numerous challenges and knew that the project's success depended on finding the right design team.  Despite the strict regulations and adherence to proper submissions on plans, the client's design criteria could not be compromised. In the end, Binswanger selected two firms for the project that could work well together; one covering the core and shell of the building, the other managing the Class A office space. Binswanger's team outlined a clear project understanding and ensured that the benefits were communicated to both neighbors and the city. One such benefit is that Binswanger was able to meet the Fire Department's power line requirement by partnering with the Los Angeles Department of Water and Power to underground all the dry utilities, which was already a city initiative. This plan involved running conduits under existing and operating railroad tracks with the additional consultation and approval of Amtrak and Norfolk Southern. Binswanger also worked to have the parking structure redesigned, which improved the turning radius for vehicles and therefore, the traffic flow.
Result
Binswanger's project management team tackled Bobrick's construction project on time and within budget while achieving all variances and approval's necessary for a successful outcome. All involved parties were managed by Binswanger's professional staff and the client was kept informed of all issues and remedies during the build out. Today, Bobrick has a world class headquarters that is LEED Gold certified and will serve the company for many generations to come.