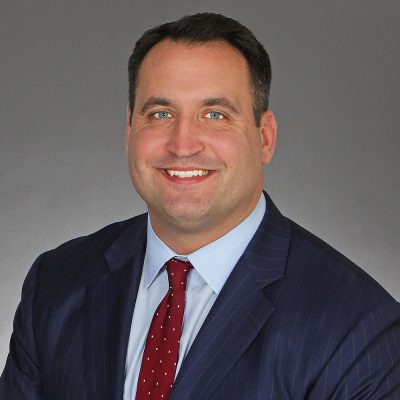 Chris Pennington
Senior Vice President & Partner | Email
Since joining Binswanger in 2003, Mr. Pennington has had significant experience servicing large and small corporations, public entities, private institutions and non-profit organizations throughout the Greater Philadelphia Region and is consistently one of the top producers for the company and within the region. Mr. Pennington's responsibilities include assisting his clients with tenant and buyer representation, acquisitions and dispositions, consulting, and site selection.
He has handled over 600 transactions in excess of 45,000,000 square feet with a transaction value of over $700,000,000. He has been involved in various assignments on behalf of such clients as Walmart, Exelon Corporation, Sony Entertainment, Benjamin Foods, United Scrap Metal, Kloeckner Metals, Amoroso Bakeries, Penn Medicine, Comcast, TJX Companies, Philadelphia Media Network, Liberty Property Trust, Endurance Real Estate Group, Tower Investments, Walnut Street Theatre, DiBruno Brothers, PRDC Properties,  Philadelphia String Theory Charter School, Winner Airport Parking, Philadelphia Suburban Development, Cescaphe, Project HOME and numerous other organizations in the region.
In 2018, Chris concluded many significant transactions with an aggregate deal total valued at more than $100,000,000. He was successful in representing Penn Medicine in the acquisition of 3250 S 76th Street, a 250,000 square foot facility to be used to consolidate common hospital functions in the area as well as the sale of multiple decommissioned coal plants for Exelon in Norristown and Phoenixville, Pennsylvania. Lastly, he was instrumental in concluding a long-term lease on behalf of the TJX Companies for a major e-commerce location totaling 459,500 square feet.
Mr. Pennington's depth of knowledge of the Philadelphia marketplace and experience in handling significant, unique and very complicated transactions is unparalleled.
In an advisory capacity, Mr. Pennington served on the advisory board to the Philadelphia School District for the disposition of all their surplus real estate resulting in numerous successful transactions. He heads the advisory team responsible for the study of all of Exelon Corporation's excess generation facilities in the Philadelphia region delivering highest and best use studies as well as brokerage services. Mr. Pennington serves on the Drexel University President's Real Estate Council and is part of the University of Pennsylvania Football Mentoring program. He has offered his time and energy to helping student athletes prepare for entering the workforce after college and getting a better understanding of the commercial real estate business.   
Mr. Pennington is local to Philadelphia having resided in Upper Dublin before attending LaSalle College High School in Wyndmoor, Pennsylvania. He holds a degree in Politics, Philosophy and Economics from the University of Pennsylvania. During his time at Penn, he was an All-American, three time All-Ivy and captain of the 2002 Football team.