BINSWANGER CLIENT AND #12 ON THE FORTUNE 500 LIST AMERISOURCEBERGEN BREAKS GROUND ON NEW HEADQUARTERS IN CONSHOHOCKEN, PA
4/9/2019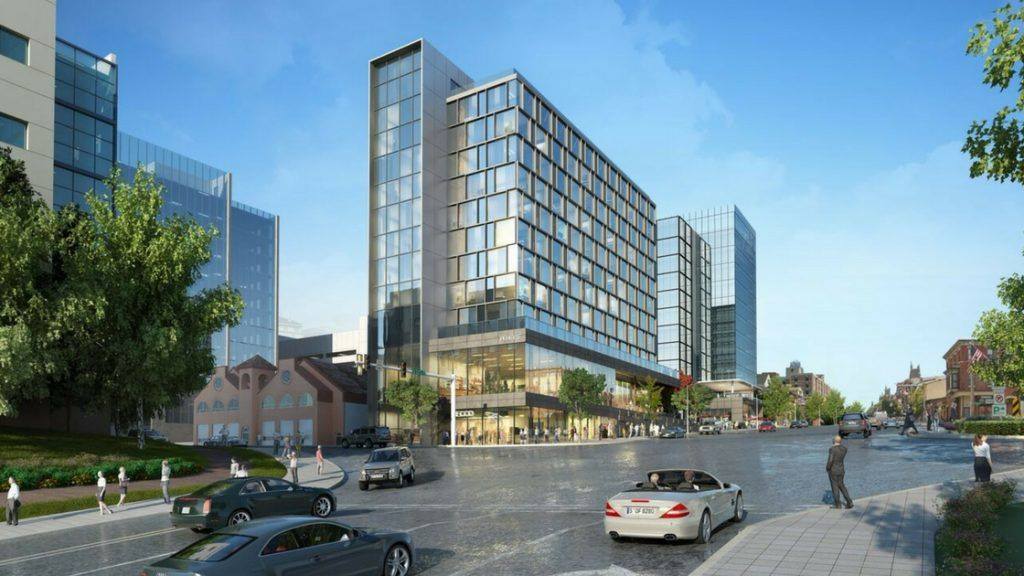 Today, representatives from Binswanger proudly attended the ground-breaking ceremony for AmerisourceBergen in celebration of the company's new headquarters in Conshohocken, Pennsylvania.
After being engaged by AmerisourceBergen in 2015, John Dues, Sr., Vice Chairman and Partner of Binswanger Advisory Services, Inc. and Cindy Brohoski, Senior Vice President of Binswanger, developed AmerisourceBergen's 2020 Philadelphia Business Strategy for the new headquarters. Driven by David Binswanger, President of Binswanger's commercial division, the team advised on labor conditions, trends, and emerging workplace dynamics as they relate to AmerisourceBergen's existing and future workforce. The Binswanger team conducted an RFP Process with developers for the project. Lease negotiations were managed by David Binswanger and the project's management was spearheaded by Binswanger's Vice President of Management Services, William Brewer.  
"It's been called a new era for Conshohocken," stated David Binswanger, President of Binswanger. "We couldn't be more pleased to keep a company of AmerisourceBergen's caliber in the Greater Philadelphia area.  The new headquarters will soon be a place where employees will thrive in a collaborative, convenient and world-class facility.  We're excited for the company, its employees and the region."
The new headquarters, an 11-story state-of-the-art facility, located within the $325 million SORA West development in Montgomery County borough, includes associate-focused onsite amenities such as fitness facilities, dining options and direct access to public and bike-friendly transportation. The company intends to start moving into the new building in 2021.
About AmerisourceBergen
AmerisourceBergen provides pharmaceutical products, value-driving services, and business solutions that improve access to care. Tens of thousands of healthcare providers, veterinary practices and livestock producers trust us as their partner in the pharmaceutical supply chain. Global manufacturers depend on us for services that drive commercial success for their products. Through our daily work—and powered by our 21,000 associates—we are united in our responsibility to create healthier futures.
AmerisourceBergen is ranked #12 on the Fortune 500, with more than $160 billion in annual revenue. The company is headquartered in Valley Forge, Pa. and has a presence in 50+ countries. Learn more at investor.amerisourcebergen.com.
About Binswanger
Binswanger, a global leader in full-service commercial real estate, has been helping its clients realize their full real estate potential since 1931. Founded by real estate innovator and pioneer, Frank Binswanger Sr., the company operates with the understanding that real estate can strengthen businesses and transform communities. The company offers a variety of services benefitting both occupiers and owners including advisory/consulting, location consulting, property acquisition and disposition, and a variety of management services. Having worked with more than half of the Fortune 500, the employee-owned company is well-known as the industry leader in the acquisition and disposition of industrial facilities around the globe. For more, please visit www.binswanger.com.