BINSWANGER NAMED EXCLUSIVE AGENT BY KNAUF INSULATION FOR A 620,000 SQ. FT. INDUSTRIAL BUILDING ON 40 ACRES IN KINGMAN, AZ
1/23/2019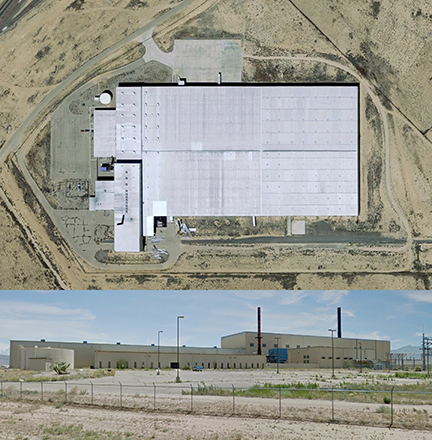 Binswanger has been named exclusive agent by Knauf Insulation to represent them with the sale of their modern, single-story 620,000 sq. ft. industrial facility on 40 acres. The building is located at 4200 Industrial Boulevard in Kingman, Arizona.
Built in 1999, this excellent facility offers 450,000 sq. ft. of warehouse space; 150,000 sq. ft. of production space and 20,000 sq. ft. of office space featuring multiple offices, conference rooms and a large break room.  The building is constructed of a slab concrete floor; metal walls; steel columns spaced 30′ x 50′ in the warehouse and 30′ x 75′ in the production area; and ceiling heights to 27′.  Key features include high-intensity discharge lighting; self-supplied warehouse dry type sprinkler system; all utilities; 480 three-phase power with a 15 megawatt substation allowing for incoming voltage of 4160; 18 dock doors; and parking for approximately 100 vehicles with a truck staging by the shipping area.
The site is ideally located within close proximity to I-40 offering direct access to Los Angeles, California.
The property will be marketed to manufacturers of beverage and tobacco products, textile mills, textile product mills, apparel, leather and allied product, wood, chemical, plastics and rubber, nonmetallic mineral product, primary metal, fabricated metal, machinery, computer and electronic product, electrical equipment appliances and components, motor vehicle body and trailer, furniture and related product and other miscellaneous manufacturers as well as prospects in the construction, wholesale trade and transportation and warehousing industries.
About Binswanger
Binswanger, a global leader in full-service commercial real estate, has been helping its clients realize their full real estate potential since 1931. Founded by real estate innovator and pioneer, Frank Binswanger Sr., the company operates with the understanding that real estate has the ability to strengthen businesses and transform communities. The company offers a variety of services benefitting both owners and occupiers including global real estate brokerage, location consulting, investment sales, tenant representation, corporate advisory, strategic consulting and a variety of management services.  Having worked with more than half of the Fortune 500, the employee-owned company has long been known as the industry leader in the acquisition and disposition of industrial and commercial facilities around the globe.  For more information, please visit www.binswanger.com.