Binswanger and Cushman & Wakefield Marketing Unique 14-Acre Development Site in Stamford, CT Called "Peninsula at Harbor Point"
7/30/2020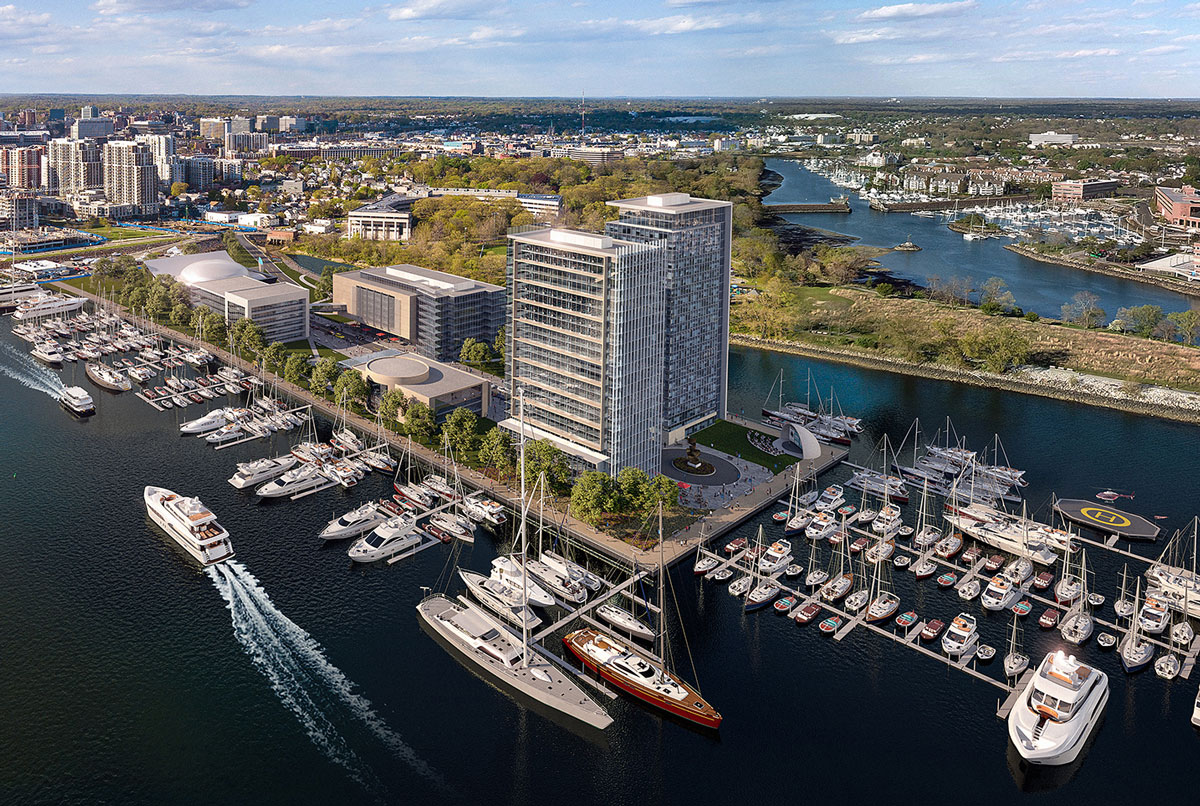 Stamford, CT – July 28, 2020 – Binswanger and Cushman & Wakefield announced today that the real estate services firms are marketing Peninsula at Harbor Point, a 14-acre waterfront development opportunity within a master planned, mixed-use community. The one-of-a-kind site is available immediately for the development of up to 1,000,000 square feet and has an existing 500,000-square-foot office space available for use adjacent to the site.
A Cushman & Wakefield team of Gary Greenspan and Steve Baker, in partnership with Jeff Binswanger and James Kilcourse of Binswanger, will lead marketing efforts on behalf of the owner and developer of the dynamic Harbor Point community, Building and Land Technology (BLT).
"Harbor Point, which is one of the largest redevelopment projects in the nation, continues to yield tremendous opportunity and presents an ideal setting for a multitude of users, including life sciences, medical/research, a corporate headquarters of the future or even an e-sports arena," said Gary Greenspan of Cushman & Wakefield. "Sitting on Long Island Sound, this rare site offers users the ability to completely customize the design by building ground-up while simultaneously providing occupiable office space." 
Harbor Point is a 100-acre mixed-use, master planned, waterfront community located immediately south of Stamford CBD. The active and transit-oriented community boasts easy access to Interstate 95 and Long Island Sound, in addition to the Stamford Transportation Center, a major terminal serving passengers on Metro-North Railroad's New Haven Line, Amtrak's Northeast Corridor and Shore Line East, as well as Greyhound, Peter Pan and CT transit buses. Located 45 minutes by train from Manhattan or two hours from Boston, Harbor Point also has a free trolley system that connects the Peninsula to the rest of Harbor Point and downtown Stamford. Future transportation options may include ferry access and a helipad for alternative access from New York City and Long Island.
"Connecticut offers a plethora of advantages that corporations – large and small – recognize as beneficial to their bottom line, and we have what it takes to help them achieve their success," said Connecticut Governor Ned Lamont. "Stamford's desirable geographic location coupled with the revitalization that's taken place in the South End present boundless economic potential for those organizations who can recognize it."
Stamford is the second most populous city in Connecticut and the most robust economically. Connecticut ranks fourth in the country in highest educati­­­­on attainment, offering companies that plant roots at Harbor Point a strong talent pool and unparalleled access to the more than 25 million people along the New York City to Boston Corridor. In terms of both jobs and population, Stamford is the fastest growing city in the state, is very diverse, boasts low crime and a 'AAA' rating. Notable office tenants in the city include Charter Communications, WWE and Indeed, among others. 
"Stamford continues to attract businesses and residents because our City offers the services and convenience the future workforce is looking for," said Mayor David Martin. "Many long-term residents of Stamford can remember when the South End was one of the most depressed areas of our City but now it stands out as a shining example of what's possible in Stamford. The Peninsula at Harbor Point provides many of the benefits of living in a modern City building off of the economic growth in our region."
"We have been rapidly developing Harbor Point for the last 12 years, transforming the former industrial area into a vibrant live-work-play master planned community and creating a thriving ecosystem for residents and businesses," said Carl Kuehner, Chairman of BLT. "We are excited to see this premier site, the final piece of the puzzle for Harbor Point, come to life."
Harbor Point has more than 25 acres of public parks, providing limitless opportunities to mix business with pleasure. The live-work-play community includes more than 3,400 new apartments with an additional 600+ underway, office spaces, restaurants, health and wellness shops, fitness studios, marinas and waterfront activities as well as a mile-long waterfront boardwalk.
For more information, please visit: peninsulaharborpoint.com
About Binswanger
Binswanger, a global leader in full-service commercial real estate, has been helping its clients realize their full real estate potential since 1931. Founded by real estate innovator and pioneer, Frank Binswanger Sr., the company operates with the understanding that real estate has the ability to strengthen businesses and transform communities. The company offers a variety of services benefitting both owners and occupiers including global real estate brokerage, location consulting, investment sales, tenant representation, corporate advisory, strategic consulting, and a variety of management services.  Having worked with more than half of the Fortune 500, the employee-owned company has long been known as the industry leader in the acquisition and disposition of industrial and commercial facilities around the globe.  For more information, please visit www.binswanger.com. 
 About Cushman & Wakefield
Cushman & Wakefield (NYSE: CWK) is a leading global real estate services firm that delivers exceptional value for real estate occupiers and owners. Cushman & Wakefield is among the largest real estate services firms with approximately 53,000 employees in 400 offices and 60 countries. In 2019, the firm had revenue of $8.8 billion across core services of property, facilities and project management, leasing, capital markets, valuation and other services. To learn more, visit www.cushmanwakefield.com or follow @CushWake on Twitter.
About Building and Land Technology
Building and Land Technology (BLT) is a premier vertically-integrated real estate firm. For more than three decades, the firm has developed, owned, operated, managed and invested in more than 25 million square feet of real estate where individuals live, work and play. Every aspect of BLT's business, from creating innovative connections between residential and office spaces, to revitalizing underappreciated real estate assets, underscores its commitment to building communities that flourish and endure. For more information, please visit http://www.bltoffice.com.