BINSWANGER PROMOTES TWO SENIOR EXECUTIVES
1/13/2021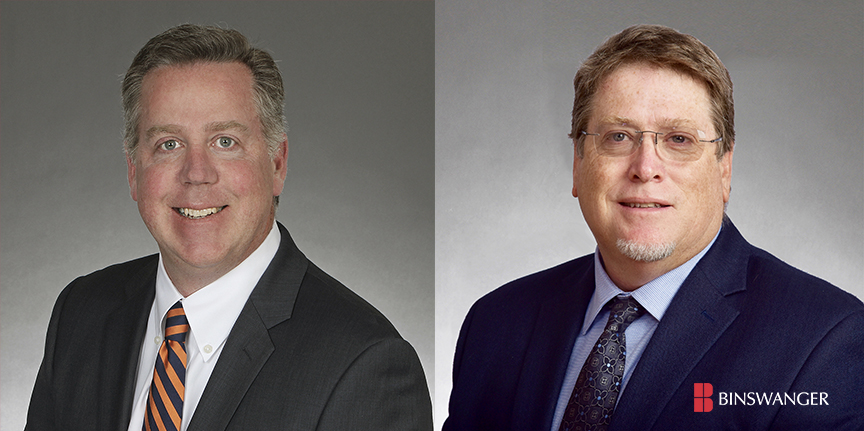 The Company Names Dan Cullen Chief Operating Officer and Jim Kilcourse President of Advisory Services
Philadelphia, PA – January 13, 2021 – Binswanger Commercial Real Estate Services, an innovator in commercial real estate since 1931, today announced that it has promoted Dan Cullen to Chief Operating Officer and Jim Kilcourse to President of Advisory Services effective immediately.
In his new and expanded role, Cullen will focus on the implementation and daily management of the global strategic initiatives and aggressive growth plan set out by Binswanger's CEO and Board of Directors.  Cullen will drive operational efficiency and assume responsibility for HR including talent acquisition and development.  Cullen will continue to oversee transaction management of all of the deals Binswanger oversees for its clients on a worldwide basis, and remains as the Company's General Counsel, a role he has had for the past 15 years.
While continuing to bring his world class knowledge in BioTech where it is needed, Jim will now lead Binswanger's Advisory Services Group.  As such, he will oversee all the company's non-transactional business, including project and facilities management, appraisal services, incentive development, and lease administration.  In addition, he will oversee the company's consulting services (portfolio analysis and optimization, operational reviews, dispute resolution, workplace strategies, etc.) designed to help corporations maximize value and align their portfolio with strategic goals.
"Over the last 15 years, Dan has touched almost every part of the firm and been intimately involved in thousands of major transactions," Stated David Binswanger, CEO of Binswanger Management Corporation. "Providing bridges between our internal operations and our external work product is critical to delivering true quality service, and Dan has a unique combination of skills to do that."  Binswanger continued, "Jim brings a whole different perspective to our firm coming from his senior executive position in the world's largest BioTech company. The general marketplace measures and views real estate differently than a corporation does, which can be problematic when making decisions.  Jim's ability to serve as an interpreter and advisor is invaluable in getting things done right and expeditiously.  As we begin our tenth decade in business, we look forward to Jim and Dan helping us to build upon our legacy and blaze new paths forward."
About Dan Cullen
Dan Cullen has been a member of Binswanger's executive leadership team since he joined the company in 2007. While he serves as General Counsel for the firm, he spends most of his time overseeing significant transactions for Binswanger clients both in the United States and Internationally.   In addition, with his background in construction and project management, he spends a portion of his time assisting the Project Management Group when his expertise is of value.  At Binswanger, he has worked on such diverse projects as IBM's 5 million square foot facility in Fishkill, NY, the creation of Saint Joseph University's Maguire Campus in Bala Cynwyd, PA, multiple site searches for TJX in various states and the restructuring of Pratt and Whitney's 2 million square foot campus next to the Warner Center outside of Los Angeles.
Prior to joining Binswanger, Mr. Cullen served as President of Nason and Cullen, a 75-year-old building company in King of Prussia, PA.  During Mr. Cullen's tenure, the company managed the successful completion of many high-profile projects in the region, including new cancer research and treatment centers for Fox Chase Cancer Center and Crozier Keystone Health Systems, various Philadelphia hospital expansions, and the construction of state-of-the-art facilities for leading health care providers such as Main Line Health (Lankenau, Bryn Mawr and Paoli).
Mr. Cullen received his Juris Doctorate from Villanova University School of Law and his BA from Boston College. He is a member of the Pennsylvania Bar Association and the Carpenter's Company of the City and County of Philadelphia.  He has served for years as an adjunct Professor of Construction Law at Drexel University, and currently is an adjunct professor at Saint Joseph's University teaching Real Estate Development in the Haub School of Business.
About Jim Kilcourse

Kilcourse's promotion comes less than two years after joining the company in March of 2019 as the company's Life Sciences lead. In that role, he consulted a variety of life science and biotech companies –from the Fortune 500 to rapidly-growing start-ups– on portfolio optimization, location consulting, and the acquisition and disposition of highly-specialized real estate assets.
Prior to Binswanger, Kilcourse spent nearly 30 years in the life science industry with Amgen where he led strategy, engineering and real estate. During his tenure, Amgen expanded its portfolio of Office, Lab & Manufacturing from 200,000 square feet to over 20,000,000 in 75 countries valued at more than $15 billion.  His responsibilities included leading the site selection strategies, master planning, site acquisition, negotiations for federal and local incentives, design, construction, and startup of sites. Additionally, Mr. Kilcourse developed footprint optimization strategies to dispose of underutilized and aging assets. He also established the next generation workplace standards for office, lab, and manufacturing facilities globally resulting in reduced operating expenses while improving staff collaboration and overall performance.
Mr. Kilcourse is a graduate of Purdue University, where he received a Bachelor of Science in Civil Engineering and Construction Management with continuing education at Stanford, UCLA, Columbia University and MIT.
---
About Binswanger
Binswanger, a global leader in full-service commercial real estate, has been helping its clients realize their full real estate potential since 1931. Founded by real estate innovator and pioneer, Frank Binswanger Sr., the company operates with the understanding that real estate has the ability to strengthen businesses and transform communities. The company offers a variety of services benefiting both occupiers and owners including advisory/consulting, location consulting, property acquisition and disposition, and a variety of management services. Having worked with more than half of the Fortune 500, the employee-owned company is well-known as the industry leader in the handling of of major corporate facilities around the globe.
For more, please visit www.binswanger.com.