Velocity expands footprint in Pennsauken with purchase of 560,000 sq. ft. industrial property
1/18/2022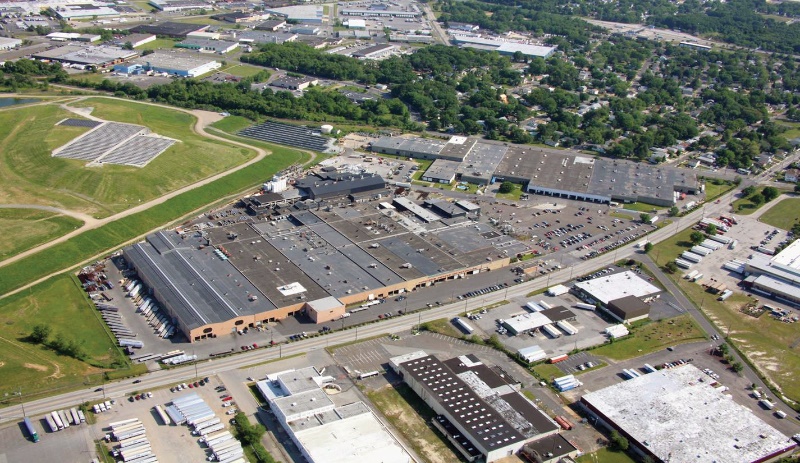 Velocity Venture Partners has acquired a 560,000-square-foot industrial building in Pennsauken for $32 million, in the latest addition to its fast-growing portfolio in the township.
Located at 9000 River Road, the property is adjacent to a building that the firm purchased in late 2019 and subsequently renovated in order to attract new tenants. The seller in both instances was Aluminum Shapes, a fabricator and processing company that filed for Chapter 11 bankruptcy, and Velocity has launched a similar strategy at its newest building.
Binswanger's Chris Pennington and Mike Torsiello advised Velocity on the acquisition and are also spearheading leasing efforts at the facility. In announcing the deal, the Philadelphia-based investor said "9000 River is one of the largest standalone buildings in Pennsauken and will allow users of varying sizes and use cases throughout this supply-constrained market to absorb desperately needed space early in 2022."
"While e-commerce is the hottest topic right now within the industrial asset class, we are in a unique position to accommodate both distribution and manufacturing users at this site — and I think we'll ultimately lock down three to four individual tenants," said Tony Grelli, Velocity's founding partner. "Almost 3,000 employees worked for Aluminum Shapes at its peak, and we are hopeful that many of these jobs will return to this complex once revitalized."
Grelli said Velocity's dealings with Aluminum Shapes began in early 2019 when the real estate firm went under contract to purchase the adjacent site, 8600 River Road. Rebranded as Pennsauken Logistics Center, the 355,000-square-foot structure is now leased to multiple tenants after the landlord completed extensive renovations.
Velocity had the chance to acquire 9000 River in summer 2021 — when Aluminum Shapes, once the largest employer in Pennsauken, with 3,000 employees at its peak — entered bankruptcy proceedings that resulted in an auction for its assets on Nov. 10. Grelli's firm prevailed in the 14-hour in-person auction process, he said, beating out roughly a dozen other participants.
He added that Velocity bid for all of Aluminum Shapes' assets, including the defunct business, the real estate and all equipment. That approach is now driving a two-pronged marketing campaign for both traditional distribution users and manufacturing specialty production-oriented users, including a handful of metals groups that have purchased equipment and could now lease space in the building where the machinery currently sits.
Velocity hopes to finalize the deals early in the first quarter and revitalize the site with the arrival of the businesses, each of which will be new to the Philadelphia region. The firm has also kicked off its upgrades of 9000 River, including renovations and interior demolition within each unit, roof and parking lot repairs and rebranding the complex through painting, signage, exterior demolition and enhanced landscaping.
It also plans to rebrand the facility as Pennsauken Logistics Center Two. Grelli noted that the acquisition of the property makes it the largest industrial landlord in Pennsauken, Camden County's densest industrial submarket, where it owns about 1.5 million square feet.