History for Sale: Piers 38 and 40 Hit the Market
10/28/2021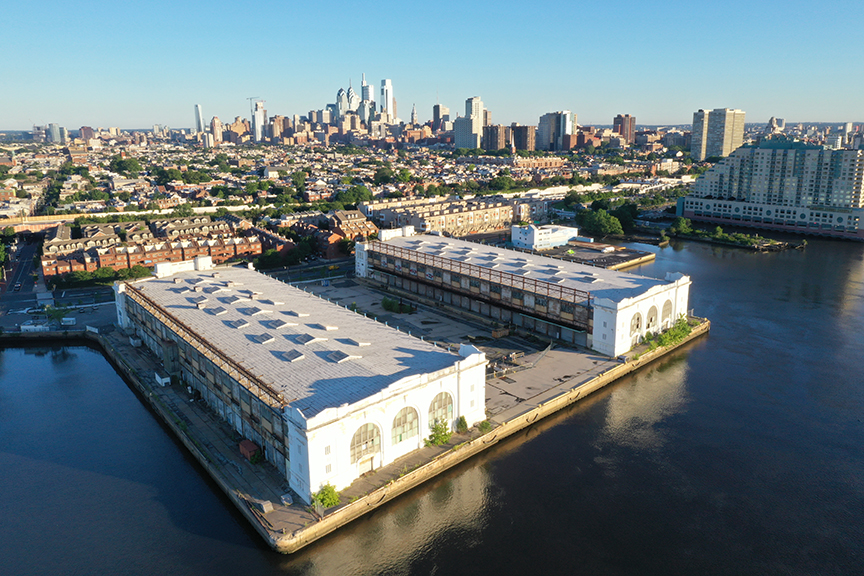 On October 18 Binswanger Commercial Real Estate Services was named the exclusive agent of Piers 38 and 40 at 775 S. Christopher Columbus Boulevard . The two piers, approximately 180,200 square feet each, will be sold as one property and is zoned CMX-3, which allows large-scale commercial and retail uses and multifamily residential use.
PhilaPort's October 2021 decision to sell Piers 38 and 40 in Southwark turns a significant page in the evolving history of the city's maritime activity. These piers, constructed between 1914 and 1915, are the most recent industrial facilities to be built at this location along the Delaware River between Queen and Christian Streets near Old Swedes Church.
When William Penn, and before him the Dutch and Swedes, sailed up the river to anchor their vessels in the mouth of Dock Creek, they found this spot to be an ideal harbor of refuge as it provided them with fresh, clean water and shelter from both east and west. On the west was a ridge line later to become Society Hill. On the east there was an island that was later divided into two smaller ones named Smith's and Windmill, which reduced the impacts of easterly storms on their anchorage. Ships approaching Dock Creek from the south sailed in the channel between the Delaware River's western shore and the southern tip of Windmill Island. The colonists, wary of potential attack, chose to build a fort on a small island south of Windmill Island near the river shoreline to protect this passage.
This fort was located just beyond the southern boundary of the city in the district of Southwark, named for a borough in the county of Surray, England that is adjacent to London. Philadelphia's oldest district, Southwark was created by act of Assembly on May 14, 1762. Its settlement by the Swedes predated Penn's arrival, their first church being built there in 1677 and replaced by the present one in 1700. Known as the Association Battery of 27, this colonial fort was located near the foot of Federal Street, about a quarter-mile below the church. Old river rats referred to the area in vicinity of Federal Street as "Battery Island" into the early years of the 20th century.
Records indicate that the early maintenance and repair of Philadelphia's piers involved public investment, but the City preferred to leave the port in private hands, turning over responsibility to its owners and operators, who formed the Board of Port Wardens (BPW) in 1766 and lasting until 1907. The board had no legal powers and, until 1870, was supported entirely with funds collected from wharf owners and vessels arriving and departing,. In 1870 it became a publicly-funded City department. Among the early piers was one built by Edward Pew for the BPW on Battery Island in 1773, a structure 35 feet wide and 60 feet long, calculated to be of sufficient size to serve any vessel calling the port at that time. The BPW paid Pew 300 pounds and 60 gallons of rum for his work. Another early pier was the Queen Street Wharf, the terminus of the Southern Mail Company, set aside by a special act of the Assembly for the exclusive use of a steamship line. This wharf was on the site of the Piers 38-40…